4 April 2019
By Phumla Williams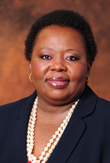 We should report all allegations of gender-based violence and sexual harassment so they can be investigated by the relevant authorities. Turning a blind eye is not good enough.
Given our history of inequality under apartheid, the importance of having access to justice and protection of human rights cannot be overemphasised. We come from a past where the justice system was not accessible to most South Africans.
Access to justice empowers citizens, especially the poor and marginalised to exercise their rights, to be heard and to challenge unfair practices, and hold those in senior positions or in power accountable.
To depart from a past where access to justice was only available to a selected few, our government in 1996 adopted a constitution that guarantees the fundamental right to access to justice for everyone. Section 34 of the Constitution states that everyone "has the right to have any dispute that can be resolved by the application of law decided in a fair public hearing before a court or, where appropriate, another independent and impartial tribunal or forum".
There is no doubt that government has over the past 25 years succeeded in ensuring that access to justice becomes a reality to all South Africans. Our successes include the establishment and funding of a legal aid board which ensures that the poor have access to legal representation. Furthermore, we continue to bring justice services closer to the people by building more courts across the country.
As the country grapples with the scourge of violence against women, we have prioritised building new dedicated sexual offences courts and upgrading the old ones. This is in line with our commitment to strengthen the fight against sexual violence in the country, especially against women, children and persons with disability.
Recently we reached another milestone when President Cyril Ramaphosa opened the Booysens Magistrate's Court which offers a range of services and is fully equipped to support victims of gender-based violence and femicide. Similar courts have also been opened in areas such Botshabelo, Bethlehem and Wynberg, and the Booysens Magistrate's Court is the 84th specialised court that has been built by the current administration since 2014.
The opening of the court coincided with the signing of the Gender-Based Violence and Femicide Declaration which was agreed upon on during last year's National Gender Summit. The declaration requires the continued roll-out of Thuthuzela Care Centres, sexual offences courts and shelters for victims of gender-based violence, with an adequate budget allocation.
The signing of this declaration by President Ramaphosa affirms government's commitment to fight gender-based violence together with all social partners. The truth is victims of sexual offences have special needs and sexual offences courts provide specialised victim-support services such as court preparations and intermediaries who deal with children or other vulnerable witnesses in a sensitive manner.
These courts also make use of 'in camera' testifying services for children, persons with mental disabilities, and all traumatised victims, irrespective of age. In such courts, witnesses can be allowed to testify in a private testifying room away from the accused and other people through the CCTV system.
This arrangement not only ensures that survivors are treated with respect and dignity but also reduces the secondary trauma survivors often have to endure when they report abuse or go to courts.
By increasing the number of specialised courts around the country, we have improved the prosecution and conviction rates. Out of 5 419 sexual offences pursued by the National Prosecution Authority for the 2018-'19 financial year, 74% ended in successful convictions.
Some of these successes would not have been possible without the assistance of victims and witnesses who came forward with information that brought perpetrators to book. South Africans are encouraged to support witnesses and ensure that they are empowered to speak up.   
As government we are considering changing the law to protect the victims of violence from irrelevant and inhumane questioning during the cross-examination. Whilst legal practitioners should act in the best interest of the clients, we should make sure that no survivor endures secondary victimisation and trauma during cross examination.  
With the signing of the Gender-Based Violence and Femicide Declaration, it is now up to all South Africans to walk the talk and live up to President Ramaphosa's call to victims that "we hear you and we will not fail you". We should also report all allegations of gender-based violence and sexual harassment so they can be investigated by relevant authorities.
Simply turning a blind eye or assuming that it is someone else's problem or responsibility is not good enough. It is within our hands to have a society where we no longer read or hear about the abuse women and children often suffer at the hands of heartless perpetrators.
- Phumla Williams is the Acting Deputy Director-General of the GCIS.