22 December 2020
By Phumla Williams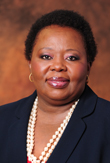 "Given the rate at which new cases have grown over the last two weeks, there is every possibility that if we do not act urgently and if we do not act together, the second wave will be more severe than the first wave". These are powerful words of President Cyril Ramaphosa when he announced new measures to contain the second wave of COVID-19 infections.  
This decision was not taken lightly, it was guided by our commitment to save lives and protect livelihoods. The President was concerned that most of the new infections were among young people especially those between the ages of 15 to 19 years. We therefore expect all South Africans to play their part in ensuing that we win the battle against the disease.
We are however, concerned that some do not fully appreciate the seriousness of this disease. Frivolous articles such as the one by Phillip de Wet "You can bypass the new beach bans for about R150 – but you still can't swim" might seem harmless, but it invites the public to bypass restrictions by using the Marine Living Resources Act.
This Act allows fisherman who are in possession of a permit or exemption to be around the beaches for purposes of fishing. The article unpacks where people can find or fill out a form for a permit or exemption and how much it will cost them to have access to any beach.
Such articles are not helpful especially when the country is facing a second wave of COVID 19 infections. Every time someone disregards the regulations, they put themselves and others at risk, and potentially cause the virus to spread.
Let us therefore continue to abide by the restrictions as announced by President Ramaphosa. In the Eastern Cape and along the Garden Route, the beaches are closed from 16 December until 3 January 2021 while beaches in KwaZulu-Natal are closed on 16, 25, 26, and 31 December, and from 1 - 3 January 2021.
Government is aware that there has been contestation regarding the rationale to close beaches. The decision to close beaches was not taken lightly, and was made only after extensive consultations. Our aim is to reduce the risk of large-scale transmission, while limiting the negative impact on businesses in coastal areas.
Lock down restrictions are meant to be temporary and relaxing them even further depends on our collective effort to manage the spread. To succeed in this, we must continue to adhere to restrictions and follow public health guidelines.
People who try to sidestep the regulations by swimming in rivers or going to parties gathering in large numbers to swim in rivers are putting themselves and others at risk. Some taverns and restaurants have even gone to the extent of operating clandestinely behinds close doors.
Our actions over the next few weeks will be vital in slowing down a massive surge in new infections. What happens next is literally in our hands. Let us therefore continue to practise social distancing, wear a mask, and ensure that we sanitise or wash our hands with soap and water.
Phumla Williams is the Director General of the Government Communications and Information System.