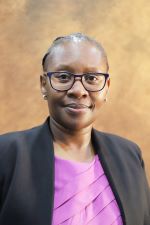 By Nomonde Mnukwa
Throughout our history, organised South African women have proven to be a force to be reckoned with by rising above painful circumstances and empowering themselves to create a brighter future for our nation.
The powerful impact of women on our nation was demonstrated on the 9th of August 1956 when 20 000 South African women marched against discriminatory apartheid laws.
Thanks in a large part to the resilience of women, the pass laws were later abolished and it was proven that when "you strike a woman, you strike a rock".  Today we applaud the strength, determination and bravery of the women who came before us. Many were harassed, detained and died in their quest for freedom. Their selfless actions helped to pave the path for our democracy and its manifold opportunities.
Since 1994, we have made great strides in gender equality, inclusion and representation of women in all spheres of government, business and civil society. Successive democratic administrations have also sought to empower women through our Constitution, legislation and progressive policies.  
Though we have accelerated opportunities for women, there is still much work to be done and one of the major challenges that persists and affects women is Gender-Based Violence and Femicide (GBVF).
Considering the harmful effects of GBVF and the alarming rate of these cases, it prompts the question of what is being done to overcome GBVF.
The need to empower GBVF survivors led to the establishment of several Thuthuzela care centres across the nation. These centres are part of our toolkit and actions to help prevent, respond to and support rape victims.
Through these facilities, individuals can report rape cases, receive medical assistance and counselling, open a police case and prepare for court. In this way, these centres give power and hope back to survivors by prioritising their needs and helping them heal from past trauma.
Another government initiative helping victims rise from pain into power is the victim empowerment programme, which supports victims through shelters, counselling and life skills that facilitate behavioural change.
The victim empowerment programme is aimed at eliminating all forms of violence against women and children through a collaborative approach.
Given the complex nature of GBVF, government has been working to strengthen the entire criminal justice system.  In this regard, President Cyril Ramaphosa in 2022 signed into law three pieces of legislation to strengthen the criminal justice system, promote accountability across the state and support survivors.
The pieces of legislation includes tightening bail conditions, strengthening parole conditions, ensuring consequences for contravening a protection order, as well as increasing the minimum sentence for perpetrators of sexual offences.   
Through stricter legislation, enhanced policing powers that enable peace officers to arrest perpetrators without a warrant at the scene of domestic violence, and the collaboration of the NPA and courts, women are empowered to take action as we strive to bring perpetrators to book.
Government's efforts towards tackling the scourge of GBVF continues and currently all avenues are being explored to make attaining protection orders easier.
Alongside government efforts, we also applaud the efforts of the private sector in tackling GBVF. Through the private sector GBVF response fund, we have raised millions to support GBVF prevention programmes, forums, shelters and welfare organisations.
We urge all entities and individuals to continue to work towards eradicating GBVF and to act when they see or know something. One of the ways individuals can assist is through the Bright Sky SA initiative (free mobile application), which helps assess whether someone may be in an abusive situation through completion of a risk assessment questionnaire, as an endeavour to protect them.
We call upon everyone to report GBVF cases to their local police station, toll-free Crime Stop number: 086 00 10111, or via the GBV command centre: 0800 428 428.
Together we can tackle the scourge of GBVF and build the society we want to live in.
Nomonde Mnukwa is Acting Director General of GCIS