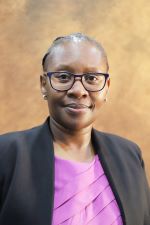 By Nomonde Mnukwa
Since the dawn of our democracy, one of our nation's priorities have been increasing accessibility for everyone, especially vulnerable groups such as persons with disabilities.
Today, in a democratic South Africa, the rights of persons with disabilities are protected, promoted and advanced through legislation and the Constitution, which leaves no room for discrimination on any grounds.
While our laws and policies have been enacted to promote people with disabilities, they should not be viewed by the private and public sector simply as a compliance issue.
Equality for people with disabilities must become a lived reality to enable a societal shift that will ensure people with disabilities fully contribute to the country's socio-economic growth and development.
As we mark National Disability Rights Awareness Month from 3 November to 3 December, it is a time for introspection on how we can advance the rights of persons with disabilities and ensure that people with disabilities are fully integrated in every area of our society.
Government remains unwavering in its commitment to uplift and improve the lives of disabled people. To facilitate the full participation of people with disabilities, public spaces are being equipped according to the needs of those with disabilities, for example wheel chair-friendly environments.
These spaces improves the quality of life for people with disabilities by enabling their participation and improving accessibility. This supports social cohesion priorities of government and promotes the rights of disabled people.
The recent recognition of South African Sign Language (SASL) as the 12th official language is an important step towards the realisation of the rights of persons who are deaf or hard of hearing.
Through the enactment of the SASL, the language needs of people with hearing impairments are met, helping increase their access to economic and learning opportunities. Moreover, it ensures they have equal protection and benefit under the law.
Learning for children with hearing difficulties is being facilitated through the use of sign language in teaching and learning by the Department of Basic Education. This initiative is helping empower and equip these children to develop their lives beyond their circumstances.
Government is working towards creating economic opportunities for people living with disabilities to enable them to actively participate in the economy and provide for themselves and families. These economic opportunities also give them a sense of fulfilment.
The Department of Women, Youth and Persons with Disabilities together with the Department of Agriculture, Land Reform and Rural Development have collaborated to accelerate inclusion for women, youth and persons with disability in the agricultural sector.
The SASSA disability grant enables over 1 million people with disabilities to live integrated lives in communities.
Whilst government strives to improve access for people with disabilities, we urge organisations, Non-Profit Organisations and civil society to work with us in creating an enabling environment for people with disabilities.
These include spaces with wheel chair ramps, assistive devices, incorporating sign language facilitators for deaf people and braille materials for the blind.
Everyone can lend a helping hand to make a difference in the lives of people with disabilities. It can be through helping a disabled person cross the road, volunteering at shelters or learning sign language.
Our actions are inspired by our former President Nelson Mandela who advocated for the rights of disabled persons. Madiba said: "The new South Africa we are building should be accessible and open to everyone... Only then will the rights of the disabled to equal opportunities become a reality"
While we have come a long way in breaking some barriers of access and entry for people with disabilities, more needs to be done to move disability issues into the mainstream. Together we can further advance our democracy by improving access for everyone, especially vulnerable groups such as persons with disabilities.
Nomonde Mnukwa is Acting Director General of GCIS