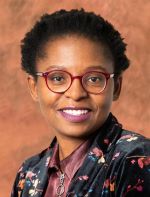 By Khumbudzo Ntshavheni
The release of census results is an eagerly anticipated event, offering an invaluable snapshot of a nation's demographic and social landscape.
With the release of Census 2022, census data has unveiled a remarkable story of progress, painting a picture of a society that continues to evolve and improve in various ways. The dawn of democracy brought a lot of hope to this country. This report highlights more areas of success as well as areas that require special attention.
Through the census, society is reporting on their socioeconomic conditions over the census period. When you look at the four-census data points, the upward trajectory in most services is noticeable.
This is invaluable feedback to us as government, that development programmes are indeed making the right impact in our communities.
One of the most significant indicators of societal progress is the expansion of educational opportunities. Census data show an increase in educational levels. More people than ever are completing high school and pursuing higher education. This not only reflects a growing awareness of the importance of education but also a commitment to equipping individuals with the skills they need to thrive in an increasingly complex and technological world.
Cape attracts older, richer Gautengers
More skilled, middle-class and wealthy people appear to be moving from Gauteng to the Western Cape, driven by the attraction of better municipal ...
The widespread adoption of technology and the internet is another facet of progress reflected in census data. As more people gain access to the internet, opportunities for learning, remote work and entrepreneurship have expanded. This technological revolution has also bridged gaps in access to information and services, contributing to greater equality and inclusivity.
Gender equality is another area where census results have shown significant progress. Women are gaining more access to education and health care. These statistics indicate that societies are gradually becoming more inclusive and recognising the potential of all individuals, regardless of their gender.
The government has placed a strong emphasis on delivering essential services since 1994, resulting in substantial improvements in providing clean water, electricity, sanitation and waste removal to the population.
The release of census results is a time to celebrate the progress made in various facets of society. The data demonstrates that in many areas we have made significant strides forward
In 2022, 82.4% of households in the country had access to piped water, either within their residence or on their premises. Meanwhile, the percentage of people with access to a flush toilet rose from 51.9% in 2001 to 70.8% in 2022.
The census data also reveals a substantial rise in the proportion of households relying on electricity as their primary source of lighting, surging from 58.1% in 1996 to a notable 94.7% in 2022. The use of paraffin and candles, which was prevalent for many people before 1994, has dwindled to nearly negligible levels.
Moreover, there has been a noticeable increase in the regular collection of waste by local authorities. In 2022, about two-thirds, specifically 66.3% of households across the nation, had their waste removed by a local authority on a weekly basis, as opposed to 52% in 1996.
Our journey since 1994 has been marked by numerous successes and challenges, yet one constant has been our ability to unite and collaborate for the common good. The core of our mission lies in enhancing service delivery, which is vital for the resilience and sustainability of our communities. Therefore our commitment to advancing the wellbeing of our nation and its people remains unwavering. We are determined to intensify our efforts, fostering co-operation among all levels of government to better serve our citizens and contribute to a better future for all.
The release of census results is a time to celebrate the progress made in various facets of society. The data demonstrates that in many areas we have made significant strides forward. While challenges and disparities still exist, the overall trend is one of improvement and progress. These achievements reflect a commitment to creating a more equitable, diverse and prosperous society, one that better meets the needs and aspirations of its citizens.
As we work towards a more inclusive and equitable future, the census results serve as a reminder that positive change is possible and that progress is, indeed, within reach.
Khumbudzo Ntshavheni is a Minister in the Presidency