23 January 2020
By Phumla Williams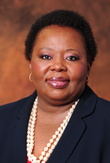 The year 2019 was difficult one for South African women and children.  Hardly a day went by without horrific reports of women and children attacked, raped or killed. The names cut across all sectors of society: different races, the young and the old.
According to the 2018/19 Crime Statistics released by Police Minister Bheki Cele, reported sexual crimes increased by 4.6%, from 50 108 to 52 420. One shudders to think what these figures mean, considering that some cases may not have been reported.
As if 2019 was not bad enough, 2020 opened with the heart-wrenching story of 12-year-old Michaela Williams – may her beautiful soul rest in peace – who was murdered by a convicted rapist out on parole.
According to reports, the 48-year-old accused, lived two houses away from Michaela's family home. No place is safe for our children.  
The man was sentenced to 20 years for a similar crime in 2005.  According to my calculations, he should have been released in 2025 had he not received the parole. This reinforces the call that men accused of such offences should never be considered for parole.
And while we welcome the arrest of the accused, who appeared in the Wynberg Magistrate's Court on Monday, January 13, 2020, we are shattered by the senseless loss of yet another innocent life. This man should have been kept in prison!  
The killing of women and children is nothing but an affront to our shared humanity. Unless we all stand up and stop such cruelty, sadly, we will continue getting these depressive sexual crime statistics. In fact, these should not be seen as numbers, but rather human beings robbed of their right to life which is enshrined in the Constitution.
We enter another year, which I hope draws on positive interventions made last year. While 2019 was a depressing year in as far as gender based violence (GBV) is concerned, we have seen visible interventions from both government and civil society.
The resolutions of the Presidential Summit on GBV and Femicide held in November 2018 led to the establishment of an interim steering committee. The structure comprised of representatives from civil society and government.   
A draft National Strategic Plan to address GBV has been compiled through a commendable national consultative process that was led by the Interim Steering Committee. President Cyril Ramaphosa also announced a reprioritised budget of approximately R1.6 billion to serve as an emergency response intervention to address gender-based violence.
Various government departments also took intervention measures that will respond to GBV cases in either police stations, courts or shelters that are meant to receive and serve the victims. It would be amiss not to commend the media for its efforts to expose GBV cases.
Sexual abuse cases received the necessary coverage.   
Both print and broadcast media have covered chilling stories that hopefully invoked critical conversations. These conversations should, however, galvanise all of us to act beyond just anger. We need everyone's consistent intervention to create a safe environment for women and children.
Ending violence against women and children will require all of us to take a stand. We need to change the mindset of men in our formations. Patriarchy creates a fertile ground for abuse of women and children. Minister of Women, Youth and Persons with Disabilities (DWYPD) Maite Nkoana Mashabane will this month commence a year long conversation aimed at further narrowing the gap on gender inequalities within society.
We need more of these conversations in schools, churches, workplaces and in community based organisations. Tackling gender-related stereotypes within communities should be a consistent and deliberate conversation. We need a gender neutral approach on how issues are discussed in these formations.
Men also have an important role to play in the fight against GBV. Through their joint actions, they must send a strong message that it is not acceptable to use power and abuse to subjugate and control women and children. Our attitudes towards relationships cannot remain the same. When a woman says NO, the decision should be respected. Enough is enough.  
Let us therefore ensure that we stand firm against violence and abuse of women in society by not turning a blind eye or assuming that it is someone else's problem. We cannot afford to go into yet another year confronted with the same situation.
While we appreciate the role of the media in exposing these crimes, society wishes to see and read about men who continue to contribute in stopping violence against women and children.
It starts with accepting that we can all contribute; be responsible citizens and report abuse of women and children.
Support women who are in distress.
We should also expose institutions that continue to fail women in distress. Police stations, health facilities, and psycho-social support centres should act professionally and diligently when dealing with sexual cases.
If we all do our bit, 2020 will certainly be better than 2019. Let us not tire in reporting public institutions that fail the public. Parents, community leaders, religious leaders and leadership in the workplace should promote instilling the values of human dignity, equality and respect in young men and boys, and society at large.
Our young boys must be mentored and guided in their journey to adulthood so that they value and respect women and children. By working together, we can make our homes and communities safer for all, and ensure that those who are responsible for such despicable acts are brought to book.
Phumla Williams is the Acting Director General of the Government Communications and Information Systems