---
13 November 2002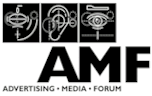 Who are we
The Advertising Media Forum is a non-profit company which provides a platform for media strategists, planners and purchasers to co-ordinate a common policy to promote acceptable standards and practices in the media industry. We previously addressed this forum under the auspices of the Media Directors Circle.
Where we fit in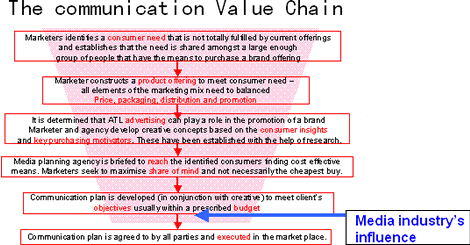 Although we are the key inter-face with media owners, many of the important strategic, targeting and creative decisions are made further up the value chain.
 
What's happened since November 2001?
 
Our industry body has been re-constituted to become a stronger, more inclusive organisation that represents all levels of decision makers participating in the media process from clients, strategic planners to buyers. The media planning and buying industry is estimated to be between 500-750 people.
 
We appreciate that we have a long way to go until our industry and membership is more representative of our country. Nevertheless we believe that we have made significant inroads in forming an inclusive and enabling body that has more than doubled our size and we have also moved from 3% black membership under the MDC to 18% currently in the AMF.
 
Although we are a national organisation we cannot claim to represent the views of the Cape Town media industry; we have insufficient representation in the Cape market to perform this role. This will hopefully change over time.
 
The AMF was formed to:
 
Be more inclusive: To encourage and empower new talent and leaders from amongst those responsible for the day-to-day planning and purchasing of media, to take an active role in steering our industry into the future. The media profession does not operate in isolation. We aim to forge relationships and build bridges with other industry bodies such as MFSA, ACA, CDF, AMASA and to encourage them to play their role in the transformation process.
 
Encourage transformation: To actively participate in the transformation process of our industry by: attracting new talent into the media industry particularly those from previously disadvantaged communities; encouraging training and retention programmes amongst our members; and by removing any discriminatory practices within our profession.
 
Encourage Professional practices: With a stronger organisational constitution, a members' code of conduct and a committee responsible for ethics, we hope to encourage our members (as well as the broader media industry), to adhere to the highest standards of media practices.
 
To be an industry watchdog: To play the role as watchdog within our industry by encouraging transparent and justifiable sales polices, pricing strategies and transactions amongst media owners.
Our role in the Transformation Process
We are fully committed to the Value statement that has developed out of the discussions and reflections during the plenary sessions held this year.
 
We would fully support an industry charter to encapsulate our commitment to transformation in a stronger and more tangible framework.
 
However it must be noted that the majority of media companies are owned by agency groups and are dependent on the mother agencies for their ownership status, Employment Equity policies and procurement practices.
 
In addition, the AMF commits itself to:
Participation - we support the formation of an industry "umbrella" body that would steer and track the industry on transformation and strategic issues. We will continue our involvement in industry forums post these hearings to ensure that the important issues that have been raised remain top of mind.
Professional practices - we will encourage and participate in efforts to improve the targeting practices within the communication industry. We will attempt to influence current practices to ensure no unfair discrimination results from brand communication efforts. We invite and welcome dialogue with media owners.
Project Phambili - The AMF recognises that there has been little or no access to the media profession for the majority of South Africans and that it is our responsibility to encourage diversity. As such, we have successfully piloted an awareness and career guidance programme through Vista University (Mamelodi campus), that has generated a 98% response rate in terms of students considering media as a career, as well as a great deal of excitement for the communications industry as a whole. We are now developing a learnership programme to support our marketing efforts. From 2003, media agencies will take on additional students from such tertiary educational institutes for 3 months of the year at a set basic salary. We recognise that Project Phambili should be broader than just the media discipline and as such we will invite other communication players to participate and support the project.
- Advertising Media Forum (AMF)