Introduction || Historical context || Government Programmes || Securing food supply|| What can South Africans do? 
Food Security
Introduction 
It must surely trouble our collective consciousness that 24 years into our democracy there are still some households in our nation that go to bed hungry. It is a particularly grave concern since we live in a food secure country.   
The total volume of South African agriculture production for last year was estimated at 62.9 million tonnes compared to 50.8 million tonnes in 2016. This represented a 24 per cent increase in production.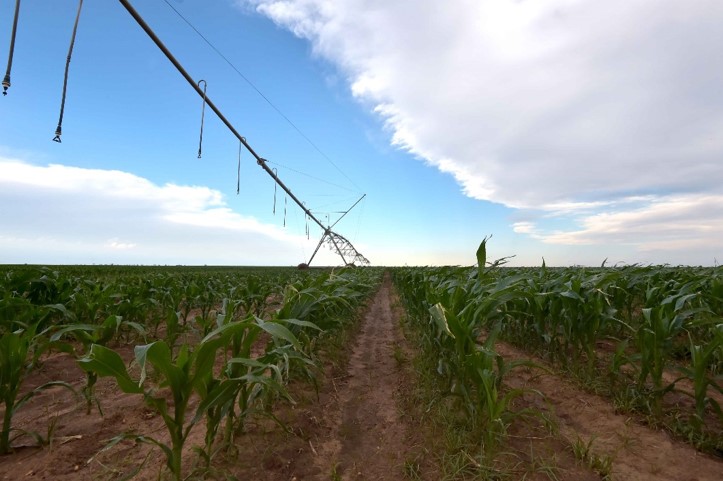 Despite the positive trend, there is an alarming number of people who are not getting enough food as a result of the trappings of poverty. It prevents them from living healthy lives and undermines their long-term food security. According to the 2017 General Household Survey the percentage of South African households with severely inadequate access to food stood at 21,3 per cent  while 24,7 per cent  of individuals were at risk of going hungry.    
To address the challenges government has initiated a number of programmes to secure our food supply for all South Africans. Moreover, the country's land redistribution process aims to support agricultural production and give more South Africans opportunities for sustainable livelihoods. 
The National Development Plan advocates that agriculture in rural communities is not only a food source but a  primary economic activity that has the potential to create close to one million new jobs by 2030.
Historical Context   
The dire situation of many in our nation going hungry has its roots in our divided past where communities were forcefully moved off their land by the apartheid state. It was the 1913 Natives Land Act that saw thousands of black families forcibly removed from their land.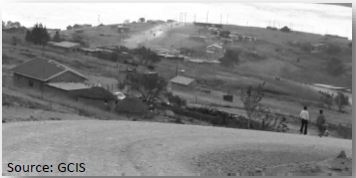 The Act became law on 19 June 1913 limiting African land ownership to 7 per cent and later 13 per cent through the 1936 Native Trust and Land Act of South Africa. It restricted black people from buying or occupying land. The apartheid government began the mass relocation of black people to poor homelands and to poorly planned, and serviced townships. No longer able to provide for themselves and their families, people were forced to look for work far away from their homes.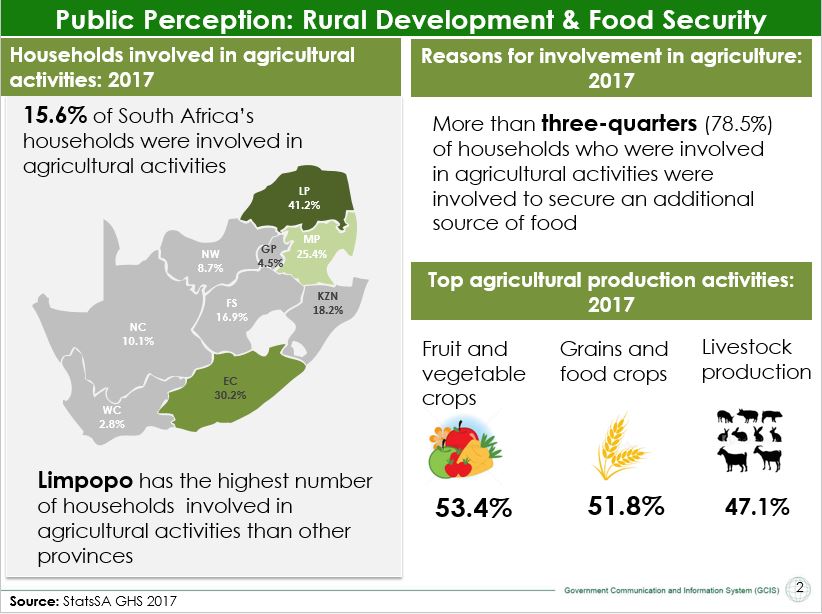 This marked the beginning of socio-economic challenges the country is facing today such as landlessness, poverty and inequality. The dispossession of families from their land prevented them from securing or growing their own food. Over the years the problem has perpetuated itself with only 15,6 per cent of households now involved in  agricultural activities for food production. As highlighted in the graph to the right, of these households, close to 80 per cent do so for additional food, farming staples such as grain and vegetables. Many other households are forced to buy their staple foods from commercial suppliers.   
Government Programmes   
To turn the situation around, a number of programmes have been implemented to secure food supply for poor communities. Importantly, these projects do not only fight food insecurity but also provide a solution to unemployment, poverty and inequality.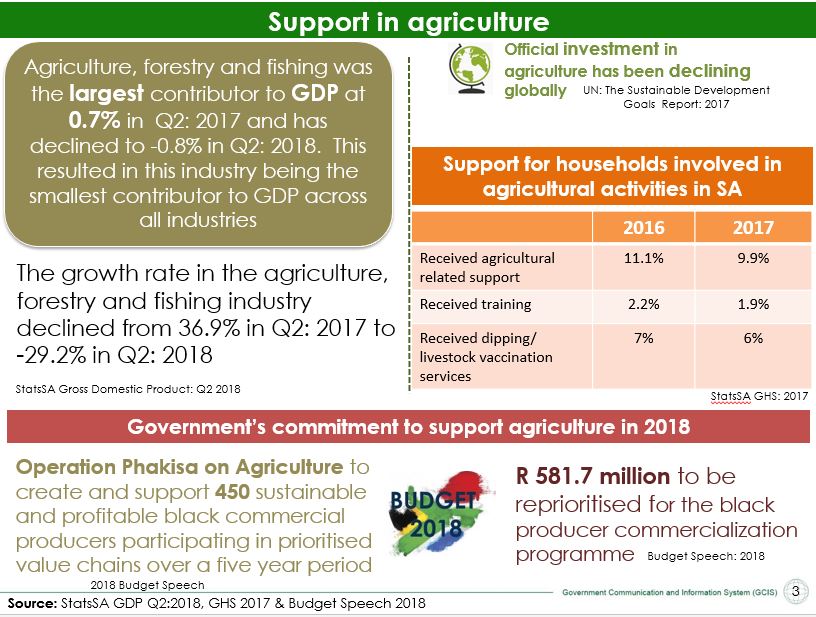 Our work is giving effect to Section 27 of the Constitution which states that every citizen has the right to have access to sufficient food. It also places the responsibility on the state to ensure that even the poor in particular are catered for. For instance, the Constitution affirms that "the State must by legislation and other measures, within its available resources, avail to progressive realisation of the right to sufficient food". 
The following projects are being implemented across the country: 
Fetsa Tlala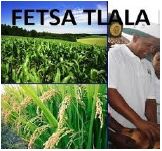 The Fetsa Tlala initiative under the Department of Agriculture, Forestry and Fisheries promotes self-sufficiency by supporting communities to produce food on communal and under-utilised land. Moreover, once these crops are harvested government ensures that there is sufficient support to mill or pack it for future use or resale. For example, in Mpumalanga the Fetsa Tlala initiative supports 10 484 households through crop production, nine smallholders through animal production and 200 youth through the Fortune 40 Young Farmers programme. It has touched the lives of more than 53 000 people through the provision of food and an income.
Agri-Parks Programme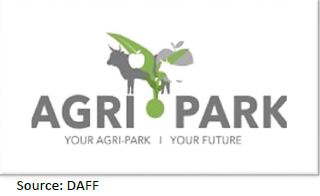 The Agri-parks programme provides small-scale farmers with agro-processing facilities, logistics, marketing and training services. The programme is being rolled out across the country to increase the participation of small-holder farmers and develop rural communities by supporting the revitalisation of rural towns. The Agri-parks programme encourages more people to work, live and invest in the country's rural areas.  
Comprehensive Agricultural Support Programme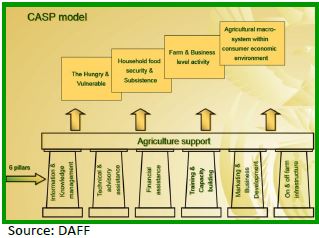 Government is providing financial support to emerging farmers and advisory support to those who want to get involved in agri-business. Through our Comprehensive Agricultural Support Programme (CASP) grant we are supporting smallholder farmers towards commercialisation. The largest share of the grant has been distributed in the Eastern Cape, Limpopo, Northern Cape and KwaZulu-Natal to benefit 132 396 farmers between 2012 to 2017. Last year we prioritised R582 million to support Operation Phakisa's target of creating 450 sustainable and profitable black commercial farmers.
The National School Nutrition Programme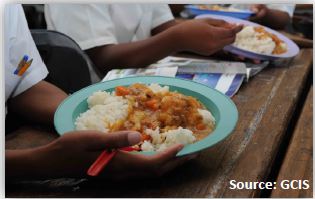 The National School Nutrition Programme was introduced as part of the Reconstruction and Development Programme and it remains flagship programme of the Department of Education.  It provides one nutritious meal to all learners in poorer primary and secondary schools. The objective is to provide nutritious meals to learners to help improve their ability to learn. 
Securing food supply and jobs through land redistribution  
By bringing more land into productive use through greater access the country can expand agricultural activities and bring about more meaningful growth. Government therefore supports a land restitution and redistribution process which enhances agricultural production and investment in the land. Research chair in poverty, land and agrarian studies at the University of the Western Cape, Ben Cousins said: "Agriculture does have such potential but only if large areas of farmland are redistributed to smallholder farmers. Around 14 million new jobs and livelihood opportunities can be generated over the next 15 years through a combination of government support for agriculture and the redistribution of 487 million hectares." 

Government is already providing  support to beneficiaries of land redistribution through financing, training, market access, irrigation and the provision of seeds, fertiliser and equipment, all of which contribute to the sustainability of emerging agricultural enterprises. It will therefore continue to accelerate the pace of land reform within the framework of the Constitution of the Republic of South Africa, respective legislation and according to the rule of law.   
Government will at all times act in the best interest of our nation. The current parliamentary processes to address land dispossession, rural development and food security will help provided a clear direction on land reform. The proposed Constitutional amendment seeks to clarify and  reinforce the fundamental principles of the property clause, which, among other things, prohibits the arbitrary deprivation of property and holds that expropriation is possible in the public interest subject to just and equitable compensation. 
In advancing land restitution, government has strengthened integrated development to ensure that land access yields broader economic spin-offs and is also resolving systemic challenges which form barriers to the progress of beneficiaries.  
What can South Africans do to secure our food supply? 
South Africans themselves can play their part in securing our food supply through home or community food gardens.  Together we can ensure that no South African ever goes to bed hungry again.
South Africans can play an active role in complementing access to food by cultivating our own supply, even on a small scale. In doing so our country will achieve food security for all and thereby improve nutrition and promote sustainable agriculture by 2030.  
Our country is rich with a variety of indigenous foods in leafy vegetables such as Amaranthus, African nightshade (thepe), pumpkin, cabbage and spinach which can be planted and cultivated at home. These foods also play a vital role for our health as they are high in nutrients that are essential in healthy living. 
South Africans, especially those who are in rural farming are encouraged to consider indigenous food crops such as dried cowpea, Wild medlat (mmilo, umTulwa), Delele and Morula fruit. These foods complement maize, wheat, rice, potatoes, sweet  potatoes and beans.  
Individuals, non-profit organisations and the business community are encouraged to work with government and their local communities to promote communal food  gardens to help us reach our National Development Plan target of eradicating  hunger and food insecurity 2030. 
Some food for thought  
An estimated one third of the world's current food supply for human consumption is being lost or wasted every year. Prevent food wastage by sharing leftovers from home and  restaurants with those who are hungry, leftovers can also be refrigerated and eaten the next day or help the environment by turning old food into organic waste through composting.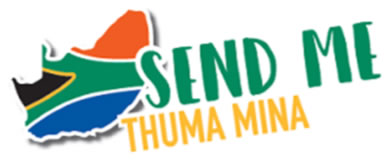 Forward this to a colleague.
We welcome your feedback and suggestions, which can be forwarded to insight@gcis.gov.za