Introduction ||

Magnitude of the problem ||

Causes of gender based violence || Government interventions 

|| Media overview || Where do we go from here? || Changing Trajectory
GENDER-BASED VIOLENCE
INTRODUCTION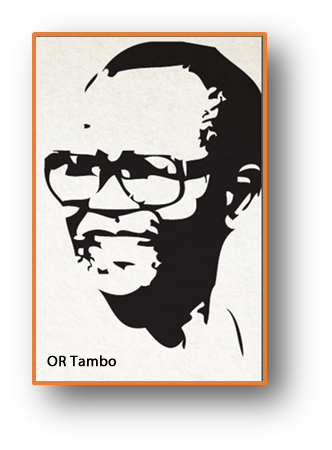 The Bill of Rights in our Constitution states that everyone is equal before the law and has the right to equal protection and benefit of the law. It also states that everyone has inherent dignity and the right to have their dignity respected and protected.
At the same time the protection and empowerment of women has long been a priority for champions of our democracy, before and since the advent of democracy in 1994.
On 14 September 1981 at the concluding session of the Conference of the Women''s Section of the ANC, OR Tambo made a telling observation on the empowerment of women.

Although these words were said in 1981 they still ring true today. Everyday millions of women carry their burdens without protest, and all too often our mothers, wives, sisters and aunts are subjected to horrific abuse or violence.
The issue of gender-based violence as well as women and children abuse is never far from the headlines in South Africa, with 50,2 per cent of women constantly worrying about violence and crime (TGI:2016 Survey).
When these incidents occur there is always the inevitable backlash from society, and calls to action by various sectors, including government. But despite all the condemnation and concrete actions by government these incidents keep recurring.
Gender-based violence is exacerbated by societal ills and therefore becomes a societal issue; it is also extremely complex as it mainly takes place behind closed doors. In many cases it is hard to police, as victims are often intimately acquainted with their attackers; there are also instances where cases are withdrawn before they can go to trial.
Given these complexities it is imperative that all South Africans must act to prevent abuse and to ensure a safer society for women and children. Government alone cannot eradicate this scourge, and legislation and tough police and court action can only go so far. Ultimately it is up to all sectors in society to partner with government in creating safer communities.
MAGNITUDE OF THE PROBLEM
Statistics South Africa's 2016 Demographic and Health Survey shows that on average one in five South African women older than 18 years has experienced physical violence. The figure below indicates the magnitude of this problem amongst women, especially those divorced or widowed and those not married but living with partners.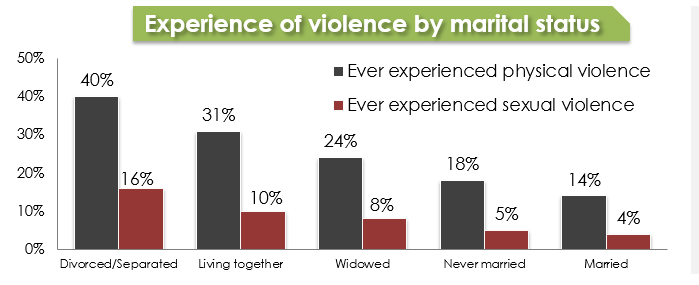 Coupled to violence, women are often faced with other forms of abuse. Verbal abuse such as derogatory or sexual remarks were reported as the most common form of abuse according to Statistics South Africa's 2016 Demographic & Health Survey and Women and the City III: 2014 study.
CAUSES OF GENDER BASED VIOLENCE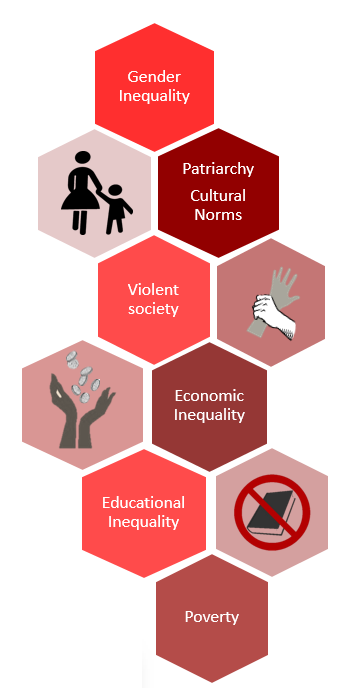 It is difficult to attribute South Africa's high rate of gender based violence to a single factor. But there are a number of contributing factors which are drivers of this scourge.
In its 2016 study; Gender-Based Violence (GBV) in South Africa: A Brief Review, the Centre for the Study of Violence and Reconciliation outlines a number of issues that contribute to GBV.
The report cites a number of studies which have linked imbalances in power between males and females to gender inequality. It further points out that discriminatory patriarchal practices against women are likely to be the root causes of GBV.
It further highlights studies which show that some factors that influence GBV at an individual level include growing up in a home characterised by violence, which becomes normalised later in life as a means of com-munication. Or having an absent father or a father who is not a positive role model.
The report also highlights the influences of culture and tradition on gender-based violence. At community lev-el contributory factors include neighbourhoods where violence against women is seen as the norm culturally and religiously. There are also harmful cultural practices such as Ukuthwala (the culturally legitimate abduc-tion of a female for marriage).
They also highlight that economic factors play a major role. At the economic level, factors include poverty, unemployment and differing economic statuses among men and women. In many cases the economic power balance between men and women is skewed, and many women believe that they have no choice but to stay in abusive relationships.
The Stats SA report on Poverty Trends in South Africa reveals that the female headed households remain significantly poorer than male headed households.
It would be fair to say that most, if not all of these factors are prevalent in South Africa. Despite our renowned constitution which emphasises equality and equal rights, we are still a very patriarchal society. The high levels of poverty, unemployment and inequality are also contributing factors.
South Africa also faces the burden of the apartheid legacy of violence and brutality. For many years the apartheid state sanctioned violence as a means of maintaining political power.
GOVERNMENT INTERVENTIONS
Since 1994 government has put in place a raft of interventions and policies to try and address GBV and to ensure a society where all people are and feel safe. There are also several legislative provisions that specifically address violence and abuse of women and children.
The Domestic Violence Act, the Criminal Law Amendment (Sexual Offences and Related Matters) Act and the Protection from Harassment Act, all offer notable protection for women and children.
The Children's Amendment Act which replaced the Children's Act of 2005 which was enacted to, among other things, protect a child from maltreatment, neglect, abuse or degradation.
South Africa is signatory to the Convention on the Elimination of All Forms of Discrimination against Women, Protocol to the African Charter on Human and People's Rights on the Rights of Women in Africa, SADC Protocol on Gender and Development and the Convention on the Rights of Persons with Disabilities.
Government has enacted Combating of Trafficking in Persons Act, which is aimed at effecting international agreements, which includes the Palermo Trafficking in Persons (TIP) Protocol.
There are also Guidelines for the Implementation of the Domestic Violence Act for the Magistrates, which are intended to assist and guide magistrates in implementing the Domestic Violence Act in a way that ensures both legal consistency and legal uniformity. A Sexual and Domestic Violence Protocol for Magistrates' Court staff is also in place.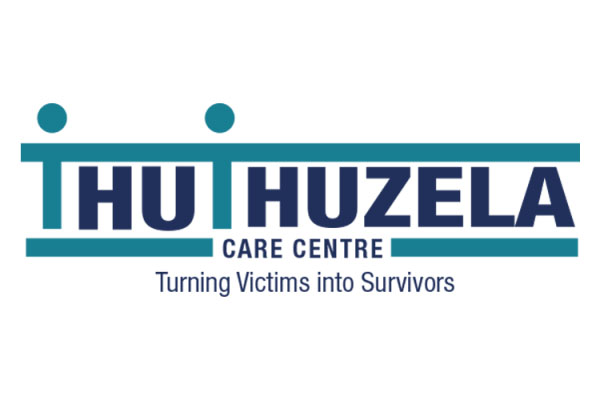 Thuthuzela Care Centres are one-stop centres, which enable rape victims to lodge a case with the police and receive counselling and medical care, and are located in various areas throughout the country.
Apart from the legislative provisions, government has also moved to ensure that the police and our courts take a hard line on perpetrators of GBV. Our police officers have been instructed to prioritise incidents of GBV, and our courts are mandated to deal harshly with those who commit violence and abuse. For instance:
The Benoni Magistrate's Court in May this year sentenced a man to 20 years imprisonment for repeatedly raping his granddaughter.
The Kuruman Regional Court in August sentenced a man to 20 years imprisonment for the murder of his ex-girlfriend.
The KwaDukuza Regional Court early this year sentenced a man to 45 years imprisonment for three counts of rape.
The Johannesburg High Court also sentenced a man to 32 life sentences and a further 170 years for crimes that include child rape, exploitation, sexual assault and child pornography.
We can rightly be proud of these interventions and the harsh manner in which courts and the justice system deals with perpetrators of GBV. However, these interventions alone will never stem the rising tide. We need a concerted effort by all in society. It is up to all South Africans to act to prevent abuse and to ensure a safer society for women and children.
MEDIA OVERVIEW
During Women's Month there were a number of notable incidents of gender-based violence, which all garnered significant media attention as they occurred during a month dedicated to women. This included acts of violence against girl learners at schools. Activism from the public, as well as the police and the Deputy President against the scourge, was widely reported. Media particularly focussed on incidents of abuse in the Western Cape and initiatives to break this cycle of violence.
WHERE DO WE GO FROM HERE?
When one considers that one in five women in South Africa have experienced sexual abuse. Or that one in three young people in South Africa have experienced some form of sexual abuse, we clearly have a long way to go in combatting GBV. The infographics below paint a gloomy picture of the ongoing scourge of GBV.
Women and violence:


It is clear that we must do more as a society in combatting GBV. We must get everyone in society to say, enough is enough! This must go hand in hand with behaviour change.
As a society we must mentor and teach young boys to always value and respect young girl children and women. We also need more men to stand up and make a difference. The voices and actions of men are crucial in the fight against violence and abuse.
Changing behaviour and ingrained attitudes will not be easy, but men must take the lead in this drive. It is time for men to join the fight, and become the vanguard of our common struggle to end violence and abuse.
It begins with responsible father figures instilling the values of human dignity, equality and respect in young men and boys. Ultimately men can ensure that we put an end to abuse, assault, rape and domestic violence against women and children.
Empowering women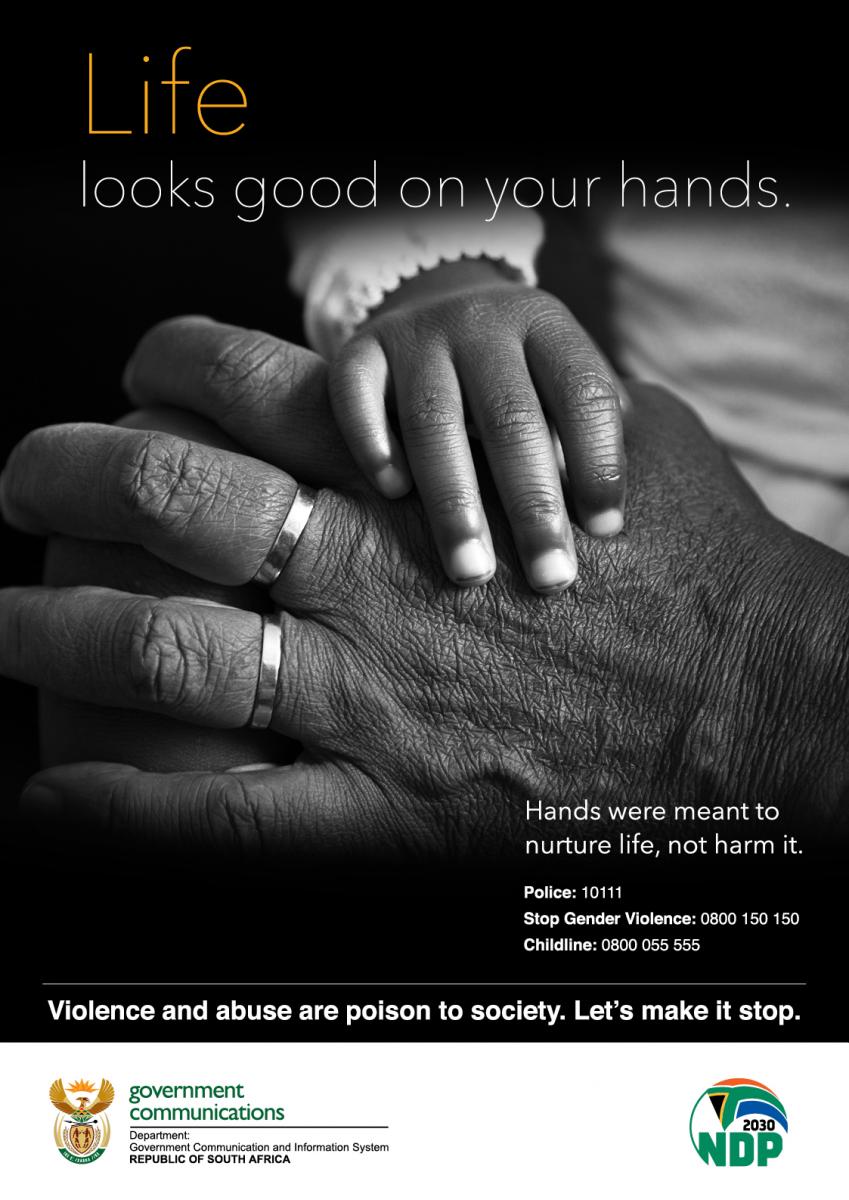 We must ensure that women are empowered to make difficult decisions such as walking away from an abusive relationship. It is also important that victims of GBV are aware of all the avenues and resources to find help and support.
While the social conditions that contribute to gender based violence in our country are complex and rooted in our divided past, the greater empowerment of women will go a long way to strengthen the fight against women abuse.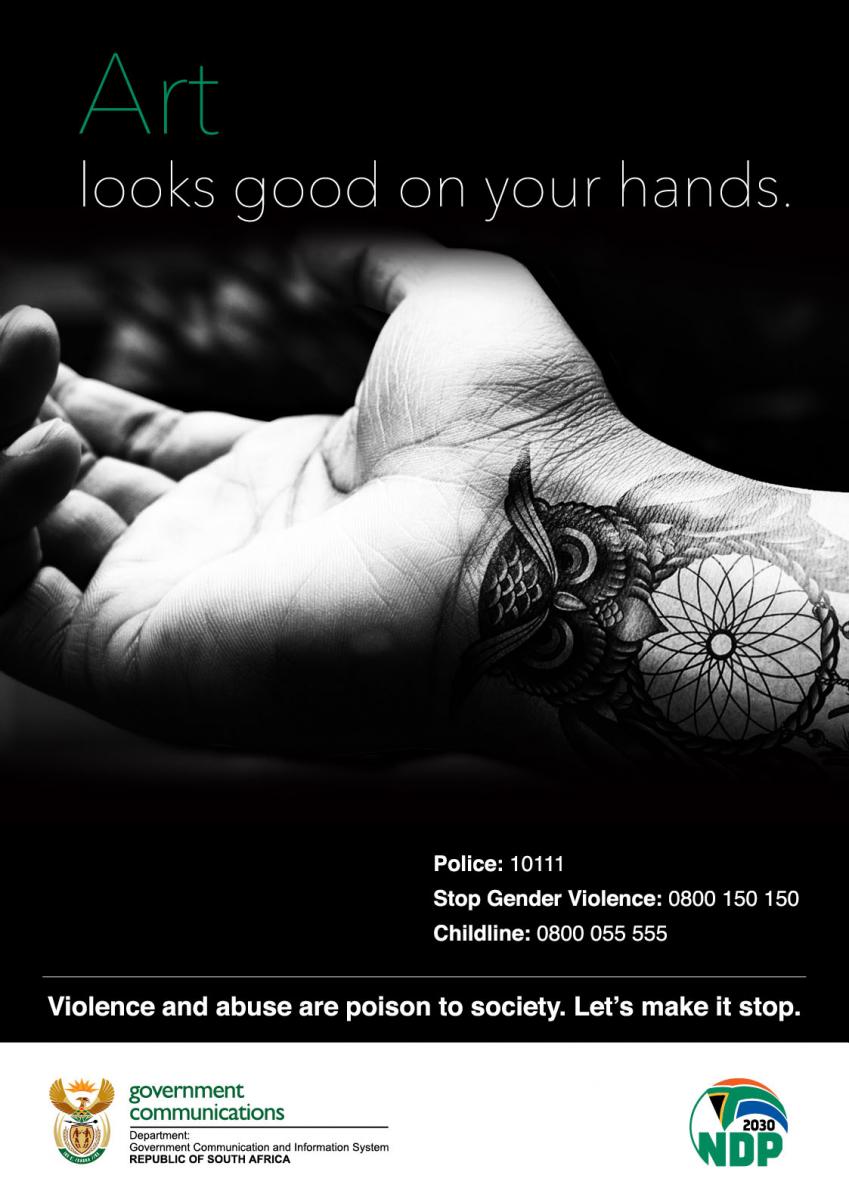 The advancement of women has inspired government since 1994 to prioritise women empowerment. As such gender equality and women's empowerment has been central to our transformation agenda and it is also at the heart of our efforts to stimulate sustainable development.
The establishment of the Ministry of Women has given further impetus to this drive, as has the Gender Equality Bill, which was introduced to accelerate the empowerment of women and attain 50/50 gender parity for the country.
At the same time institutions such as the Commission on Gender Equality are mandated to monitor, evaluate and research women's rights and gender equality. Government has also moved to facilitate access to formal employment for women through the Employment Equity Act where employers are legally required to work towards more equitable representation based on gender, race and disability.
The complete integration of women into the economy will ensure that we begin to undo the triple challenge of unemployment, inequality and poverty.
Women are a powerful economic driver when they are meaningfully involved in the economy through entrepreneurial activities and employment in decision-making roles.
Evidence has shown in both developed and developing economies that when more women join the labour force, and in particular become entrepreneurs, there is a rise in gross domestic product.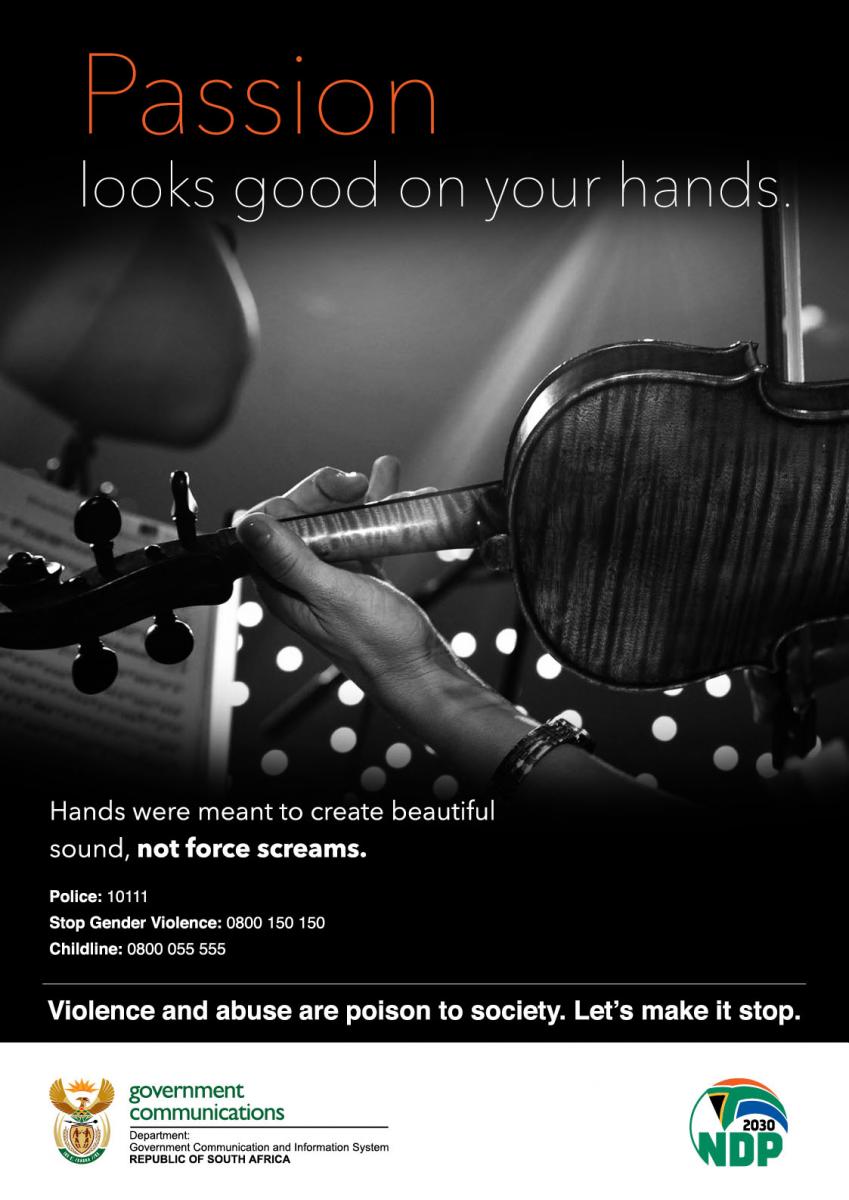 Women entrepreneurs are also known to use profits from their business to improve their families' living conditions and life-style. More importantly, they invest in their children's education which increases the chances of them getting better jobs and breaking the cycle of poverty.
With more women in our economy we can remove the financial dependency on men, which in some cases increases women's vulnerability to domestic violence, rape, incest, abuse, and murder.
CHANGING TRAJECTORY
South Africans need to start seeing themselves as parts of the solution to GBV. Through our collective efforts we can create greater awareness, reduce the number of sexual offences and attacks on women and children.
Only by working together can we establish and entrench a culture in which women are valued and respected.
This scourge cannot be eradicated by government alone, and therefore we call on all sectors to partner with us in creating safer communities.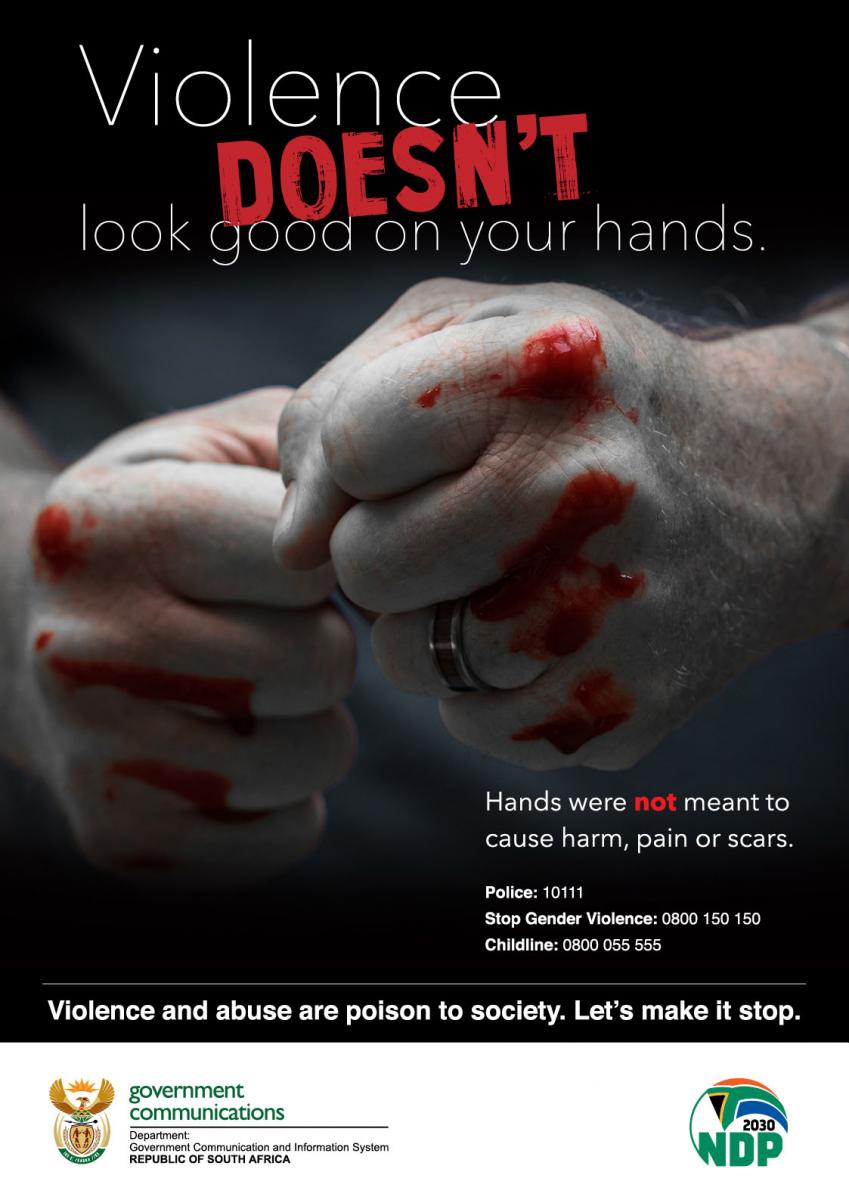 Within the government sphere it is important for politicians to actively:
Ensure that women and child abuse is not only highlighted during the 16 Days of Activism for No Violence Against Women and Children campaign or in Women's Month. This issue must remain at the forefront of all our thinking throughout the year.
Government must continue to take the lead by enforcing women empowerment legislation, and by ensuing the courts and the police arrest and prosecute those who are guilty of GBV.
Government leaders must be seen to be above reproach on issues on women empowerment and those who are implicated in cases of GBV should be encouraged to do the honourable thing.
We must continue to ensure that the private sector, civil society, individuals, labour and ordinary citizens are active participants in ending the scourge of GBV.
We must continually reinforce that this is a societal issue that needs the support of all South Africans.
Forward this to a colleague. Subscribe / Unsubscribe
We welcome your feedback and suggestions, which can be forwarded to insight@gcis.gov.za