In 2014, South Africans from all walks of life celebrated 20 Years of Freedom and our achievements since 1994. Most concurred that things had changed for the better. This milestone also provided an opportunity for citizens to reflect on the changes that had taken place, the challenges that remain and what could be done to deepen freedom and democracy.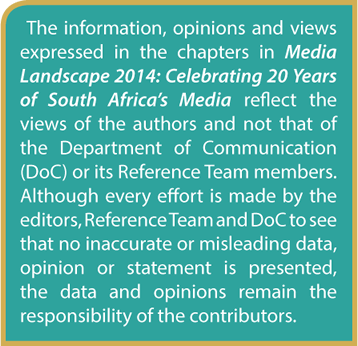 Within the media environment, practitioners took the opportunity to celebrate, discuss and debate what progress had been made. Some remembered a time pre -1994 when the press was under siege, journalists and editors randomly arrested and newspapers banned. A number of draconian laws restricted what journalists could write, or what people could talk about. Community media was crushed and freedom of the airways a pipedream.
Post-1994, government committed itself to ensure that freedom of the press and other media, the freedom to receive and impart information and ideas, and artistic freedom were included as key aspects of the new South Africa. Former President Nelson Mandela had as early as 1994, in addressing the International Press Institute stated: "A critical, independent and investigative press is the lifeblood of a democracy" and had insisted that these freedoms should "enjoy the protection of the constitution." Two years later, the freedoms were enshrined in the Constitution, hailed worldwide as a major achievement of the new democratic government. This opened up the way for major change in South Africa's media landscape.
As milestones provide important opportunities for reflection – the Department of Communications (DoC) conceptualised the second edition of its media landscape series - Media Landscape 2014: Celebrating 20 Years of South Africa's Media. It explores topical issues within the media environment and contributors were asked to select a topic and consider how far we have come since 1994, to weigh up what has changed – and present a roadmap for the future.
Exploring Media Landscape 2014: Celebrating 20 Years of South Africa's Media…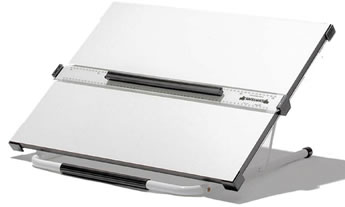 From a common starting point, each chapter hones in on a range of topical issues which makes it interesting and essential reading matter for all communicators and media practitioners.
Evolving media policy of the ANC: Time to go back to the drawing board?
The media policy of the ANC pre- and post-elections is reviewed in light of some of the more recent initiatives of the ANC government: namely the Media Development and Diversity Agency (MDDA), the Media Appeals Tribunal (MAT) and the Protection of State Information Bill.
Media Diversity
Media diversity, a key principle of the emerging democratic government, is explored extensively in two chapters. The first chapter, simply entitled Media Diversity looks at media ownership, content and audience needs and wants – and considers how far South Africa has come in reflecting the country's diversity of people, interests, views and opinions.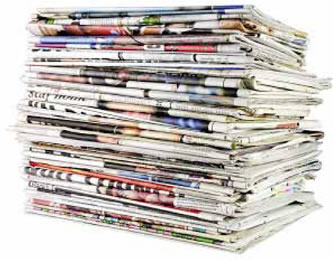 The second chapter Indigenous Languages and South Africa's Media Environment focuses more specifically on diversity of language, the use of indigenous languages in the media and the impact this has had. This chapter reinforces the position taken in Media Diversity in that it also concludes that while there has been some change, evidence suggests that there is still a long way to go before it can be argued that South Africa has a truly inclusive media.
Media Ownership
Media ownership, more particularly print media ownership emerges as an issue in a number of chapters (Twenty Years of Media Ownership; Twenty Years of Media Development and Diversity). Print media ownership is shown to be largely untransformed with four companies, namely Media24, Caxton, Times Media Group and Independent still dominating this space. While there have been some shifts in ownership and influence over the past 20 years, the situation within this environment has come full circle. The only current major change is the purchase of Independent News and Media by Sekunjalo. How this will contribute to development and diversity remains to be seen but some are arguing strongly that transformation gets addressed head on and without delay. One of the suggestions is for government to address print, broadcast and digital media transformation through a policy review process.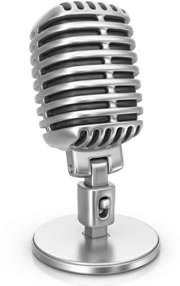 Community and government owned media are both viewed as sectors that should be enhanced if media development and diversity is to flourish. The community radio sector has already made large strides since the dawn of democracy.
Community Radio: A Snapshot of the Landscape after 20 Years reflects the transformation that has taken place in this environment but also considers what needs to be changed in the next 20 years.
Government Communications
Government Communications – 20 Years of Empowerment and Development give readers a glimpse into another world – that of government media and how this has evolved from the apartheid era until today. It is a journey through the principles and policies that guide this sector and readers are introduced to the rationale behind the formation of the Government Communication and Information System (GCIS).
And a lot more...
The remaining chapters tackle how the media reports on issues as well as technological changes in this environment. Mind the Perception Gap and Twenty Years of Freedom: Whose democracy are we reporting? both analyse media reporting over a period of time and each chapter suggests how this can be improved upon.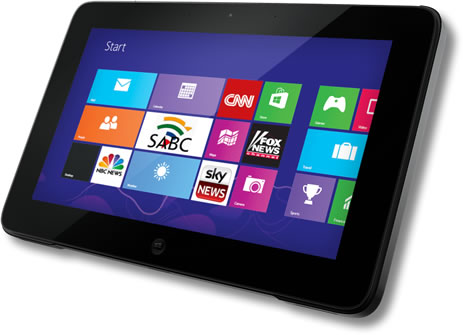 In Twenty Years of Freedom: Whose democracy are we reporting? the content of news reports are honed in on to see whether there has been any change in reporting on race, racism and xenophobia, elections, children, HIV/ AIDS and gender based violence.
In Mind the Perception Gap, the author takes a different approach and looks at how the media influence public perception while not always presenting "reality" in a balanced and objective way. This can contribute towards the widening of the gap between what is real and what is perception. This is done through not only the selective use of journalist's sources but in the topics they choose to report on as well as the tone they adopt when reporting. Constructive journalism is seen as one way in which this challenge can be overcome.
No current discussion would be complete without a look at the digital environment and Journalism in a New World of Social Media explores just this.
Media Landscape 2014: Celebrating 20 Years of South Africa's Media is currently being published – and will be available in March 2015.
Should you wish to order your copy, please contact:
Una Seery • Tel: (012) 473 0325
Nkele Sebasa • Tel: (012) 473 0207